Pool Cleaning in Madison, WI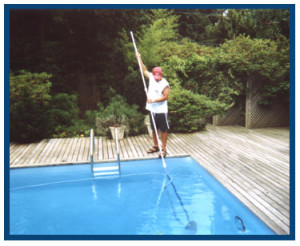 An efficient system for pool cleaning in Madison, WI is very essential for everyone who owns a swimming pool in Wisconsin.
Cleaning requires supplies which allow you to maintain the cleanliness of your pool throughout the entire pool season.  To ensure that your pool is completely clean, you also ought to check its pH levels and this can be done by using testing strips. This helps to prevent algae and other dangerous bacteria from breeding in the pool.
A good sign of unhealthy pH levels in your pool is a slimy floor and a funny smell coming out of the pool. New Wave Pools, LLC can treat this condition quickly and in a way that is inexpensive compared to the competition.
Pool Cleaning in Madison, Wisconsin
For Swimming pool cleaning, it is also very vital that you stock chemicals that are very effective in getting rid of toxins and bacteria that might be in the water but make sure that the one that you choose is not harmful to your family or yourself in any way. One can use other chemicals other than chlorine which will ensure that the cleanliness of your pool is maintained and will not result in any harm to your body or on your family members. There are also a wide variety of other tools that can be used to clean your pool and will help you avoid the need of having to keep on changing the water in the course of summer.
New Wave Pools, LLC will maintain a reserve of the proper chemicals so you don't have to.
Tips on Swimming Pool Cleaning
Despite the fact that you may be using a pool cover, you will still need to use skimming for swimming pool cleaning in Miami in the days when you don't put it on the pool to get rid of all the debris and dirt. It is also vital that you have a pool maintenance kit. A number of these kits have their own pool cleaner, pool filter and a skimmer head that can be interchanged.
The vacuum normally has a cleaning head that is a single piece and a bag for debris that can be reused. Attaching the head to a standard garden hose is very easy. The skimmer which is simply a mesh that has been placed on a pole's end is majorly used to skim the pool's surface for any debris and leaves.
Swimming Pool Supplies for Cleaning
When doing a pool cleaning, it is also possible for you to get cleaning supplies that are automatic; this will ease your job to a great extent. Among these is the automatic pool cleaner that is specially designed for above ground pools. This resembles a vacuum for the floor of your pool and the suction that it employs is directly from the pump system. A large number of these products need a pump flow rate of a minimum of 2000 gallons for every hour and 1.5 inches fittings.
A large number of the vacuums come with a hose and connectors and a number of them have a length of 26 inches, enough to take care of the entire floor of your pool. Ensure that you read the instructions on the supplies before you use them.
So, for your pool cleaning in Madison, WI. Contact us today!